Most Recent Performance



30 September at the China Exchange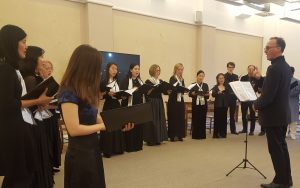 About the East West Gala Chorus
A non-profit organisation, the East-West Gala Chorus offers the unique opportunity for non-professional singers to gain vocal training in a small group environment.  You are invited to join us for fortnightly vocal training sessions with expert vocal coach Mark Oldfield (Member of BVA and ISM).  Mark will aim to build skills that enable us to sing with greater ease and proficiency in our own choral groups. Singers with a music or choral background are welcome.
Singing in a variety of languages, we explore standard repertoire and works beyond the standard western musical tradition, including new ensemble arrangements written for the group.
East-West Gala Chorus was founded by Annie Pang in 2015 to perform opera choruses in a charity gala for the Lord Mayor of the City of London at Fishmongers' Hall.  We have since been invited to sing in a carol service for the Worshipful Company of Mercers.  We hold regular workshops in London venues including the Regent's University and the Grosvenor Chapel.
COME AND SING WITH US
New singers are always welcome to join in our exciting journey of music making.
Repertoire
The choice of music for this season will be tailored to the individual singers' ability and interest, and at their own pace, with the option to sing in ensembles.  A variety of pieces will include works beyond the standard choral repertoire written for the EWGC, works introduced in our past workshops and repertoire which will support of vocal training.
Examples include works by Armstrong Gibbs, Vaughan Williams, Finzi (English); Ariel Ramirez (Spanish), Schubert (German).
Contemporary composers: Sarah Hudson, Samuel Louis (Dai Hai 大海/ Loong Di Chuan Ren 龍的傳人) medley arranged for EWGC (Chinese) and Ramya Thiyagarajan (Latin and Sanskrit); and traditional songs in Japanese, Hebrew, Hungarian and Slovakian.
Subscriptions:
A subscription will be payable in advance to cover costs (excluding music).  Details on application.
________________________________________________________
EastWestGalaChorus.com  (A not-for-profit organisation)
Founder: ANNIE W PANG
Vocal coach: MARK OLDFIELD (Member of BVA and ISM)  vocalcraftwork.com
Music Director: Sarah Hudson