Sunday 19 May 2019  Ensemble Singing Workshop
Venue: The London Welsh Centre, 157-163 Gray's Inn Road, London WC1X 8UE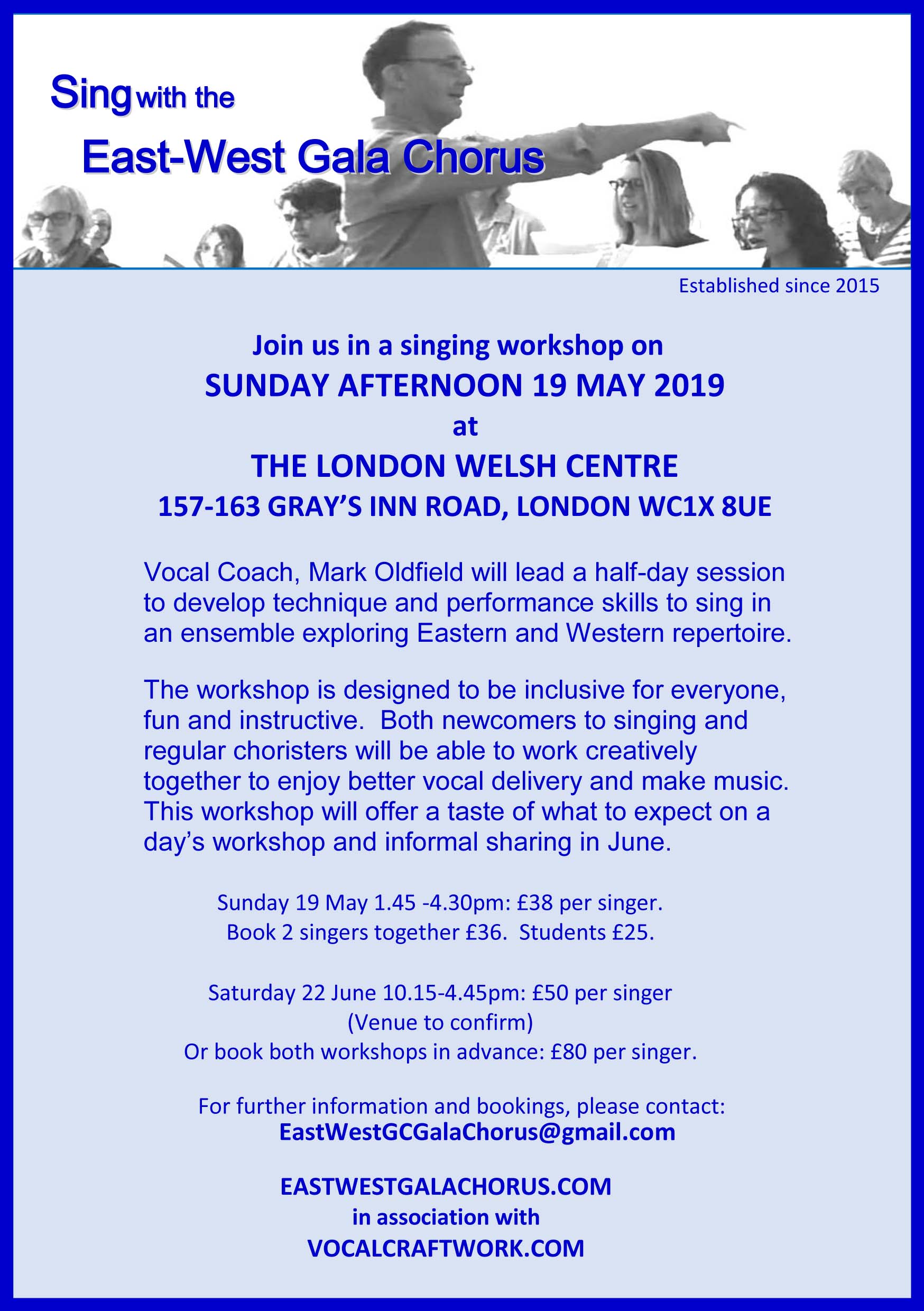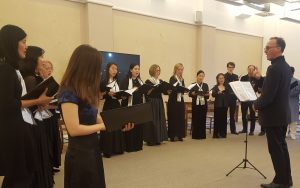 Saturday 30 September 2017, 5pm at the China Exchange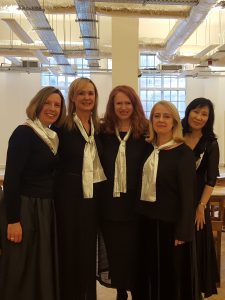 Video from the concert: 大海 /龍的傳人"DA HAI / LOONG DI CHUEN REN"  (WIDE OCEAN/ DRAGON'S DESCENDANTS)
– Chinese Choral Medley, arranged by Samuel Louis (劉曉桐)
First performance by the East-West Gala Chorus at the China Exchange, London – 2017
Music Director: Mark Oldfield
Soprano: Eleanor Chu Piano: Jingle Lau Gawley       Violin: Sarah Hudson
Audio from the concert: JASMINE FLOWER 茉莉花 – a traditional Chinese folk song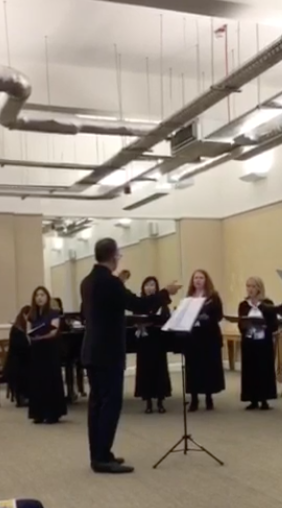 Sung by the East-West Gala Chorus at the China Exchange, London – 2017
Feedback from the audience 
Well done – what a success!
I enjoyed it enormously.  The programme was so interesting and varied.  It must have taken a lot of thought and research to put it together with the beautiful images.  I loved the international elements. So thank you.
– Mary, London W1
This was an excellent concert, a wonderful mixture of music and readings — it was obviously put together with much thought and imagination by Annie Pang and Mark Oldfield.
The Chorus and musicians performed beautifully, making this an unusual and very enjoyable evening.
– Sheila, London W1
It was a pleasure to be there and I really enjoyed the mixture of poetry and song.  To me the programme conveyed the beauty and serenity of the moon.
– Anne (North London)
I enjoyed the event very much – I especially liked the variety of music and tempo, of languages, of performance – individual, 2 or 3 people, the whole choir and the wonderfully idiosyncratic poetry throughout.  A real achievement from a small group of very enthusiastic people who made it a most memorable evening.
– Sue – Lake District
Feedback from the performers
Thanks very much for organising this and I enjoyed taking part of this event. I hope you are happy with the audience's reception of the show.  It was a very inspiring event indeed and no doubt lots of hard work getting it into shape.
– Jennifer Wong, Poet
It was a lovely concert …would of course enjoy doing more music with East West Gala Chorus.
– Sarah Hudson, Composer/Violinist
…really thank you for this opportunity. This has been a very useful and rewarding experience for me and it makes me understand myself more as a performer and as a singer.
– Eleanor Chu, Soprano (Royal College of Music)
On 大海 /龍的傳人 "Wide Ocean/ Dragon's Descendants" – Chinese Choral Medley, arranged by Samuel Louis (劉曉桐) [2017] for EWGC
"In ancient times, there was a river, a dragon…we live under the mighty Dragon's feet, we are all descendants of the Dragon… I grew up by the ocean, the sea breeze takes me along its waves."
The song represents the Chinese's melancholy regarding its long history and turmoil.  Although I grew up in the West, I have never forgotten my roots, and I cherish the width and depth of Chinese culture.
– Samuel Louis, Composer/Pianist
A Celebration of the Mid-Autumn Festival in Songs and Words by singers of the East-West Gala Chorus and their friends.
Join us to explore the themes of the moon, harvest and memories of home.  Drawing on rich cross-cultural traditions, singers from the East-West Gala Chorus will reflect on different traditions marking the start of autumn and moon themes in communities around the world.  Through a programme of songs and words, we will share our music making with Hong Kong music and literary scholars in English, Chinese and other languages.
About the Chinese Mid-Autumn Festival
The Chinese Mid-Autumn Festival coincides roughly with the Autumn Equinox, when the day and night are of almost of equal length and the moon is at its fullest and brightest in the year.  It is celebrated in a variety of forms, especially across east Asia.  Fondly referred to as the Moon Festival, the occasion has been celebrated by Chinese people throughout the ages.  Today, family and friends gather to share the much loved traditions of moon viewing, sharing mooncakes and the harvest of seasonal fruits while children play with colourful lanterns.  Similar festivals focusing on this time of the lunar calendar and the harvest are found in cultures across the globe, from the Christian Harvest Festival, to the Indian Purnima, and the Jewish Sukkot.
16 December 2016  Carols at Mercers' Hall, City of London
Members of the East-West Gala Chorus sang in a carol service in the Chapel of the Mercers' Hall for the Worshipful Company of Mercers.  Conducted by Christopher Cromar from the organ, we sang a variety of carols including Hungarian and Hawaiian pieces.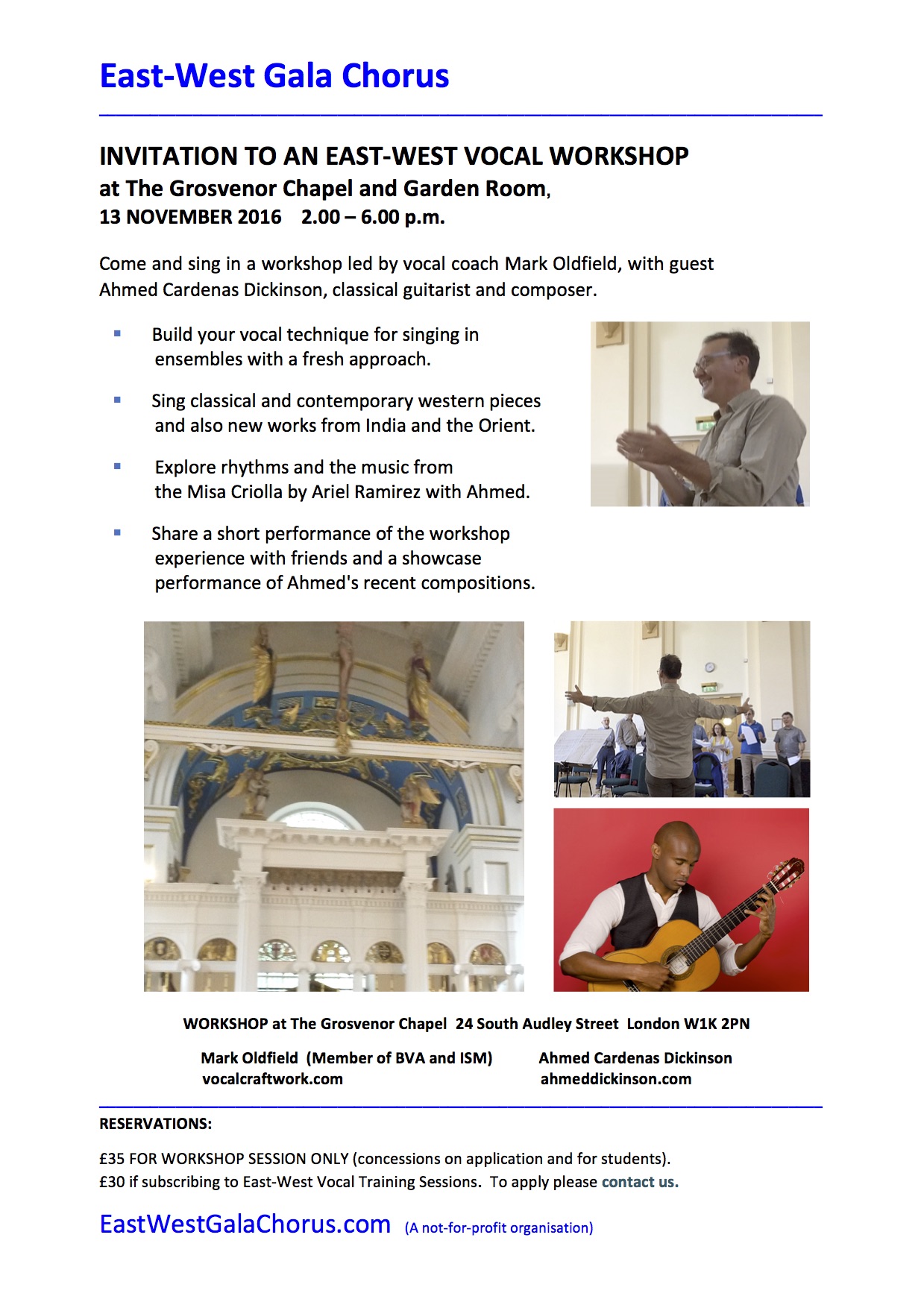 Saturday 2 July 2016 10am – 2.30pm.
Vocal Workshop with Mark Oldfield (Vocal Coach) and Kemal Yusuf (Composer)
Venue: Herringham Hall, Regent's University, Regents Park,  London.
Repertoire: Selection of western classical and new works, Chinese and Indian songs.
22 July 2015  East-West Gala Concert
In response to an initiative by Mei Sim Lai OBE DL, the East-West Gala Chorus was formed to perform opera choruses in a charity gala for the Lord Mayor's Appeal and Mulan Foundation Network at Fishmongers' Hall.  Performing alongside soloists: Soprano Laura Mitchell, Soprano Bei Bei Wang and Baritone Mark Oldfield, the Chorus sang works by composers ranging from Mozart to Bernstein and Sondheim, as well as the well-known Chinese folk song, 'Jasmine Flower'.
The event was generously supported by the UK-China International Exchange Association and the Institute of Directors City Branch, UK.